This year too I will be participating in #NonFictionNovember2017, a month of reading nonfiction books. Exciting, huh? I certainly feel motivated to read more nonfiction books and I've been accumulating some nonfiction books these past months just to be able to compile an interesting TBR.
I took part in this month long readathon last year and it was fun. Not that I read only nonfiction books throughout the whole November but since I did read four of the seven books from my TBR. I've come to see nonfiction books in a whole new light and I am much more open to the idea of incorporating them into my TBR.
The challenges for this year are: home, substance, love and scholarship. I decided not to follow these and I will compile a loose TBR, basically all the new nonfiction books I am excited to read. Here they are:
Infidel by Ayaan Hirsi Ali
From the back cover: Infidel shows the coming of age of this distinguished political superstar and champion of free speech as well as the development of her beliefs, iron will, and extraordinary determination to fight injustice. Raised in a strict Muslim family, Hirsi Ali survived civil war, female mutilation, brutal beatings, adolescence as a devout believer during the rise of the Muslim Brotherhood, and life in four troubled, unstable countries ruled largely by despots.
Long Walk to Freedom by Nelson Mandela
From the back cover: LONG WALK TO FREEDOM is his moving and exhilarating autobiography, destined to take its place among the finest memoirs of history's greatest figures. Here for the first time, Nelson Rolihlahla Mandela tells the extraordinary story of his life–an epic of struggle, setback, renewed hope, and ultimate triumph.
Homo Deus, A Brief History of Tomorrow by Yuval Noah Harari
From the back cover: Homo Deus explores the projects, dreams and nightmares that will shape the twenty-first century—from overcoming death to creating artificial life. It asks the fundamental questions: Where do we go from here? And how will we protect this fragile world from our own destructive powers? This is the next stage of evolution. This is Homo Deus.
I Know Why the Caged Bird Sings by Maya Angelou
From the back cover: Sent by their mother to live with their devout, self-sufficient grandmother in a small Southern town, Maya and her brother, Bailey, endure the ache of abandonment and the prejudice of the local "powhitetrash." At eight years old and back at her mother's side in St. Louis, Maya is attacked by a man many times her age—and has to live with the consequences for a lifetime. Years later, in San Francisco, Maya learns that love for herself, the kindness of others, her own strong spirit, and the ideas of great authors ("I met and fell in love with William Shakespeare") will allow her to be free instead of imprisoned.
A Woman in Berlin by Anonymous
From the back cover: A Woman in Berlin is the astonishing and deeply affecting diary of a woman fighting for survival amid the horror and inhumanity of war. Begun on 20 April 1945, the day Berlin first saw the face of was and ending on 22 June 1945, the anonymous author describes life within the falling city as it was sacked by the Russian army.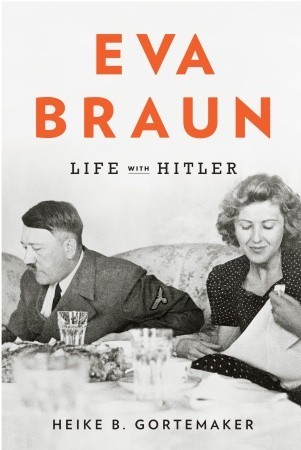 Eva Braun by Heike B. Görtemaker
From the back cover: In this groundbreaking biography of Eva Braun, German historian Heike B. Görtemaker delves into the startlingly neglected historical truth about Adolf Hitler's mistress. More than just the vapid blonde of popular cliché, Eva Braun was a capricious but uncompromising, fiercely loyal companion to Hitler; theirs was a relationship that flew in the face of the Führer's proclamations that Germany was his only bride.
The Witches: Salem, 1692 by Stacy Schiff
From the back cover: The panic began early in 1692, over an exceptionally raw Massachusetts winter, when a minister's niece began to writhe and roar. It spread quickly, confounding the most educated men and prominent politicians in the colony. Neighbors accused neighbors, husbands accused wives, parents and children one another. It ended less than a year later, but not before nineteen men and women had been hanged and an elderly man crushed to death.
Overambitious? Absolutely! Let's see how it goes. If I read two of these I will be happy.
The ones I am looking forward the most are: Infidel, Homo Deus and A Woman in Berlin.
Follow me: